News
Under Cover and COVID-19
We hope this finds you safe and healthy.
In light of the recent developments with the COVID-19 outbreak, we wanted to let you know that Under Cover is closely monitoring the situation, and we're following all CDC guidelines in protecting our employees and customers, including increased cleaning and sanitizing procedures for our facility. On the personal health front, we believe we will continue to see signs of recovery in the coming weeks.
Under Cover is operating as usual. We are here to answer questions, take orders, carry on with production, and to help in any way we can. Our team is not only highly skilled, but dedicated, and they have committed themselves to continue serving our customers.
Thank you for your business, and your continued support. We hope we can all get back to our normal ways soon. We will get through this together……. Stay safe, and healthy!
NAMM is Go!
Day 1 of NAMM 2019 is in the books, and the show is looking bigger and better than ever. Stop by the Under Cover booth - we're located in ACC North, Booth 17505 - say hello, and grab a fireball!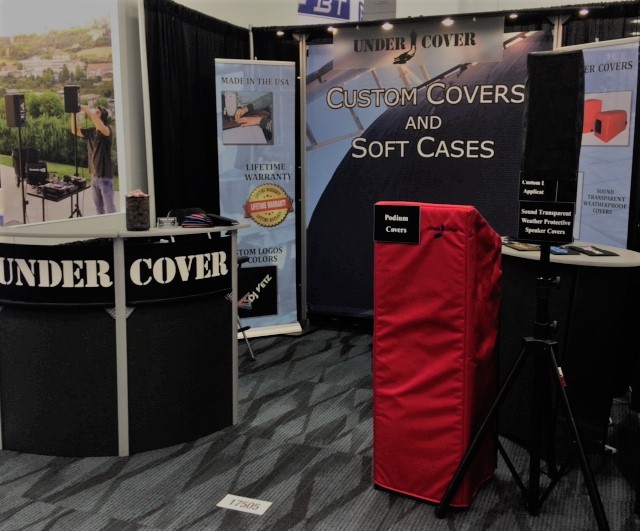 NAMM 2019!!
Under Cover will be exhibiting at NAMM! The 2019 Winter NAMM will be held at the Anaheim Convention Center in Anaheim, CA. Show days are Thursday, January 24 through Sunday, 27. We'll be in Booth 17505, in the Pro Audio Salon, which is located in ACC North, Level 2. Please do stop by to say hello. We'll be surrounded by friends and customers, and we'd love you to join us!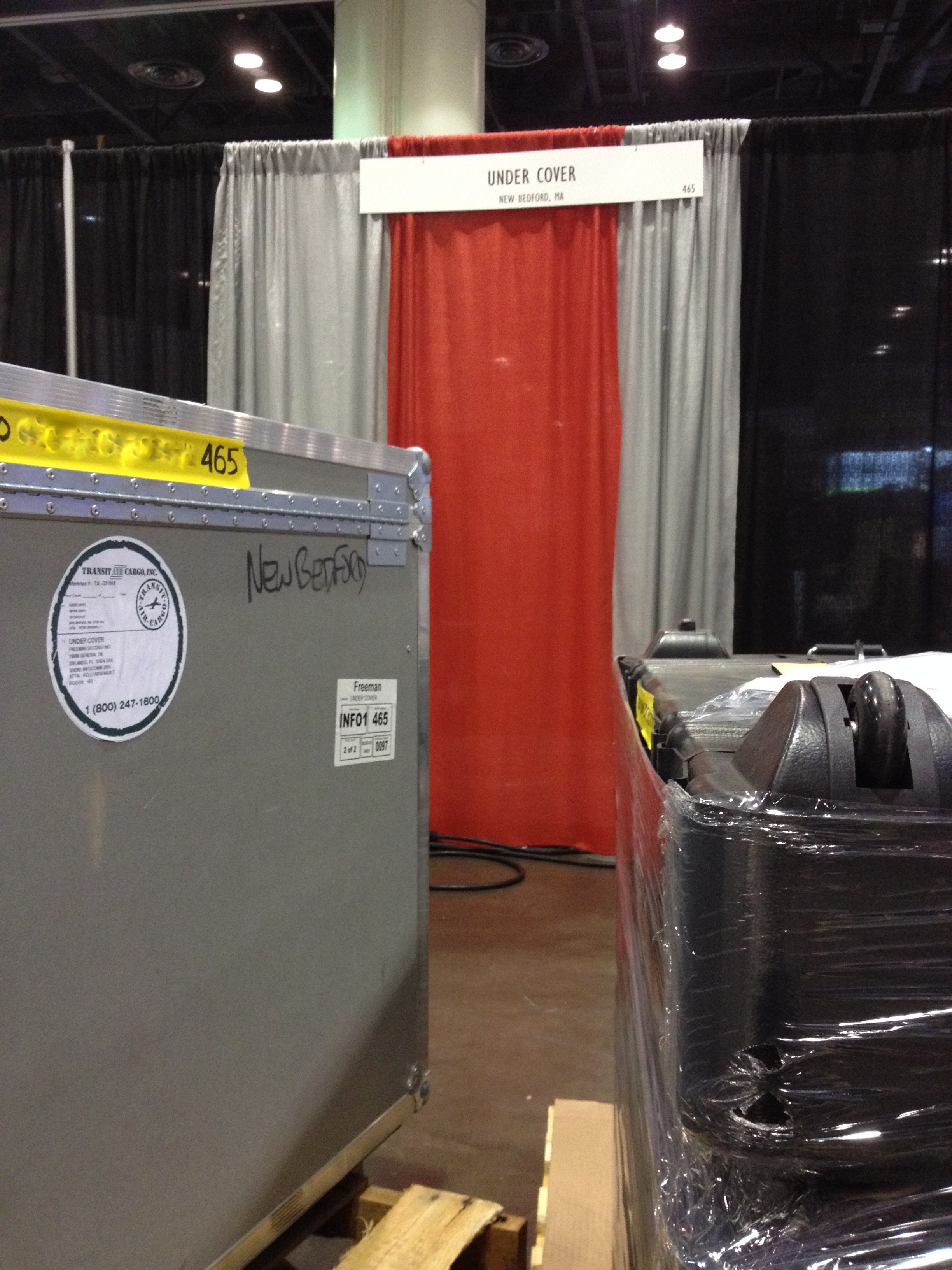 Under Cover In Vegas
InfoComm 2018, held June 6,7, and 8 at the Las Vegas Convention Center, was a resounding success by any measure. It was great to see old friends, and make new ones. The overall feeling throughtout the show was upbeat, with many manufacturers, dealers, and contractors stating that business has never been better.
A quick jaunt downtown afforded the Under Cover team the opportunity to see some of our RCF covers high above Fremont Street. Now that's an experience!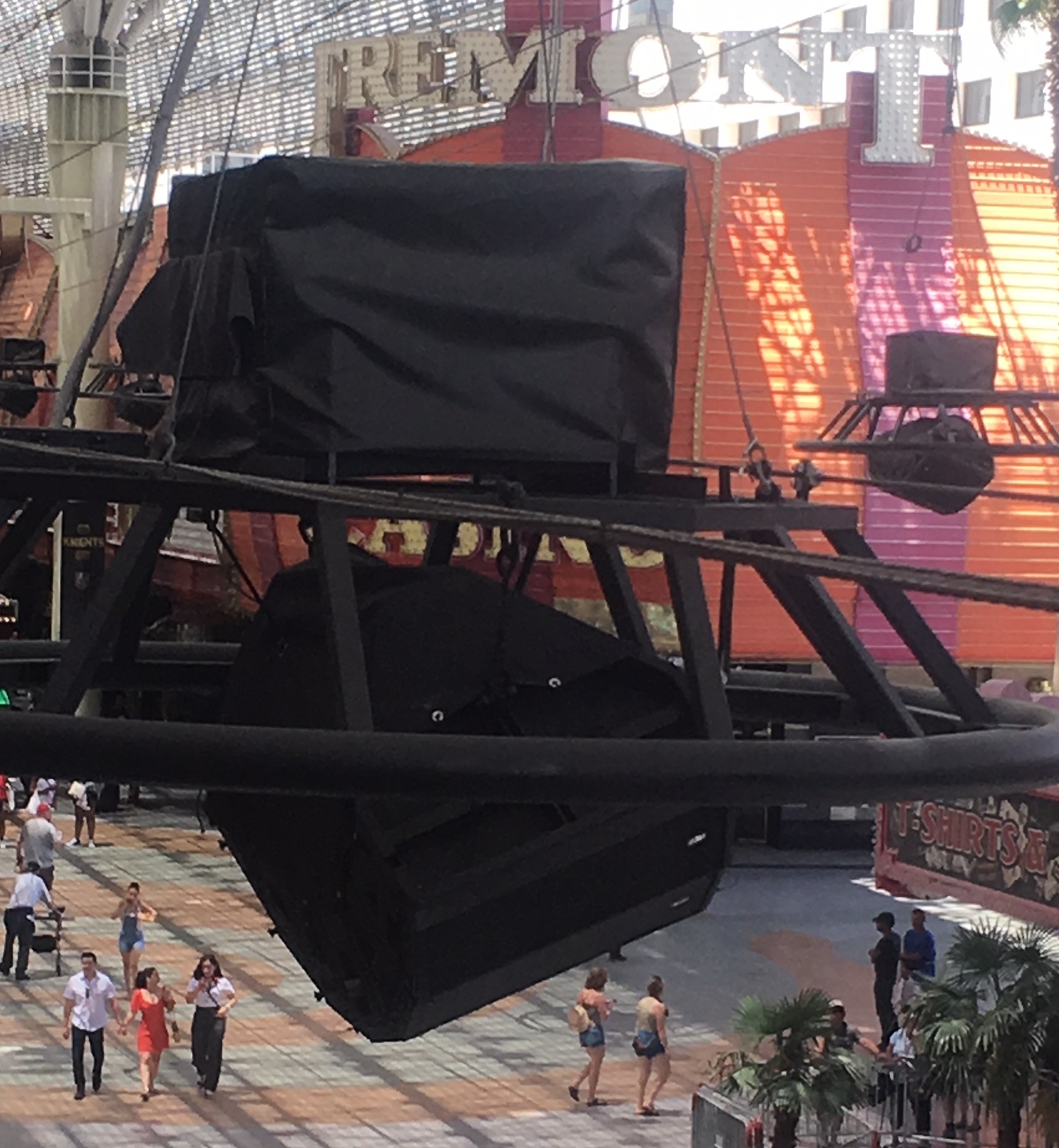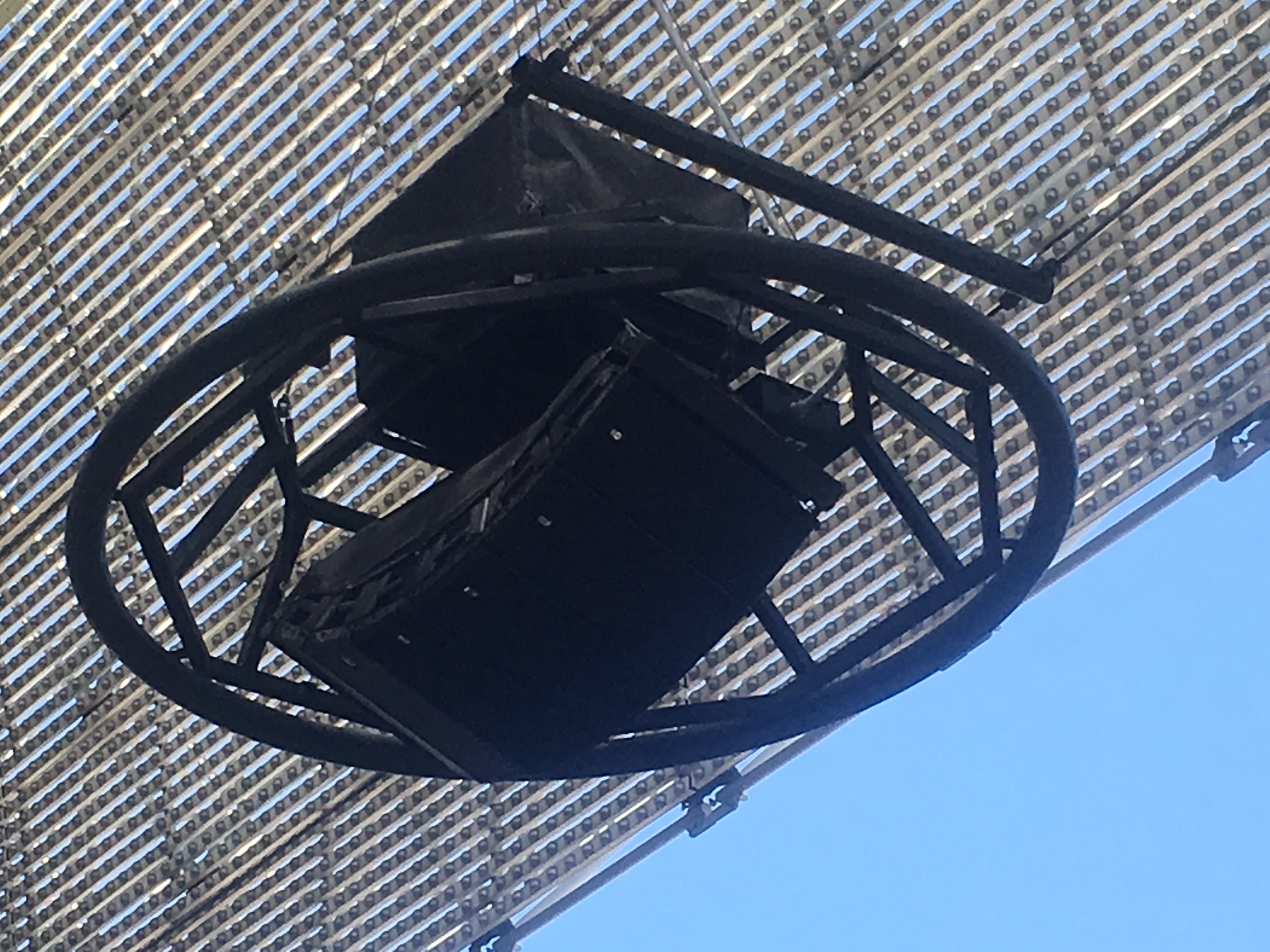 INFOCOMM 2018
InfoComm 2018 is here! Under Cover will be exhibiting in booth C980 June 6 - 8, at the beautiful Las Vegas Convention Center. We look forward to seeing you there!
NEW ITEMS ADDED TO OUR CLEARANCE BIN!
Hey, everyone makes mistakes, even Under Cover. Occasionally, we'll errantly make a cover for a different speaker than what a customer has, or we'll make something in the wrong color, or what-have-you. The only thing we can do with these red-headed step children is to sell 'em cheap, cheap, cheap! Our loss is your gain. Every item on the sale page is on sale! $25.00 per item plus shipping! These covers and cases are all brand new, and ship with the same lifetime warranty that all our products carry. Take a look: http://www.undercovernyc.com/custom_covers_and_bags/sale_items
satis&fy Take Delivery of New d&b Covers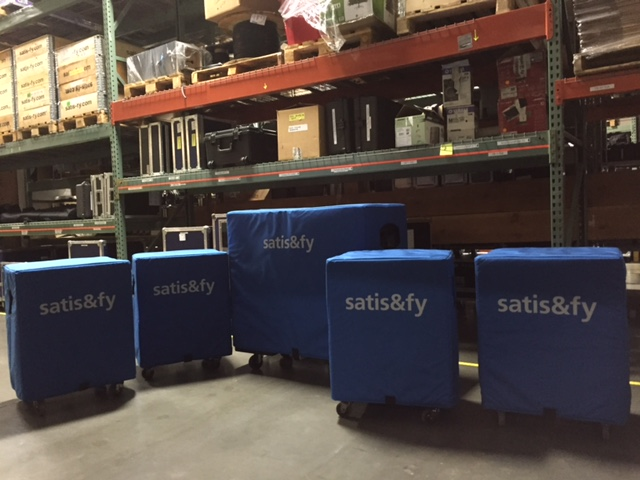 satis&fy, a Global AV Alliance member that provides audio, video, and other production services to corporate clients worldwide, recently took delivery of a passel of protective covers for some d&b audiotechnik B4 and J-SUB cabinets. The covers shipped to satis&fy offices in both Portland, OR, and Brooklyn NY.
The satis&fy logo looks great silk screened on their royal blue covers. Portland warehouse manager Rick Sanger describes the new covers as "amazing," Thanks Rick! We look forward to getting a whole bunch more satis&fy gear Under Cover!
Under Cover In The Big Leagues!
Under Cover continues to service the professional and NCAA Division 1 sports markets with continued success.
Here, we see a photo of a rack cover ordered and put into place in Chicago's United Center by Paul Zerang of Zerang Broadcasting and Entertainment. Paul provides audio services to a number of Chicago area teams, including the White Sox and the Blackhawks.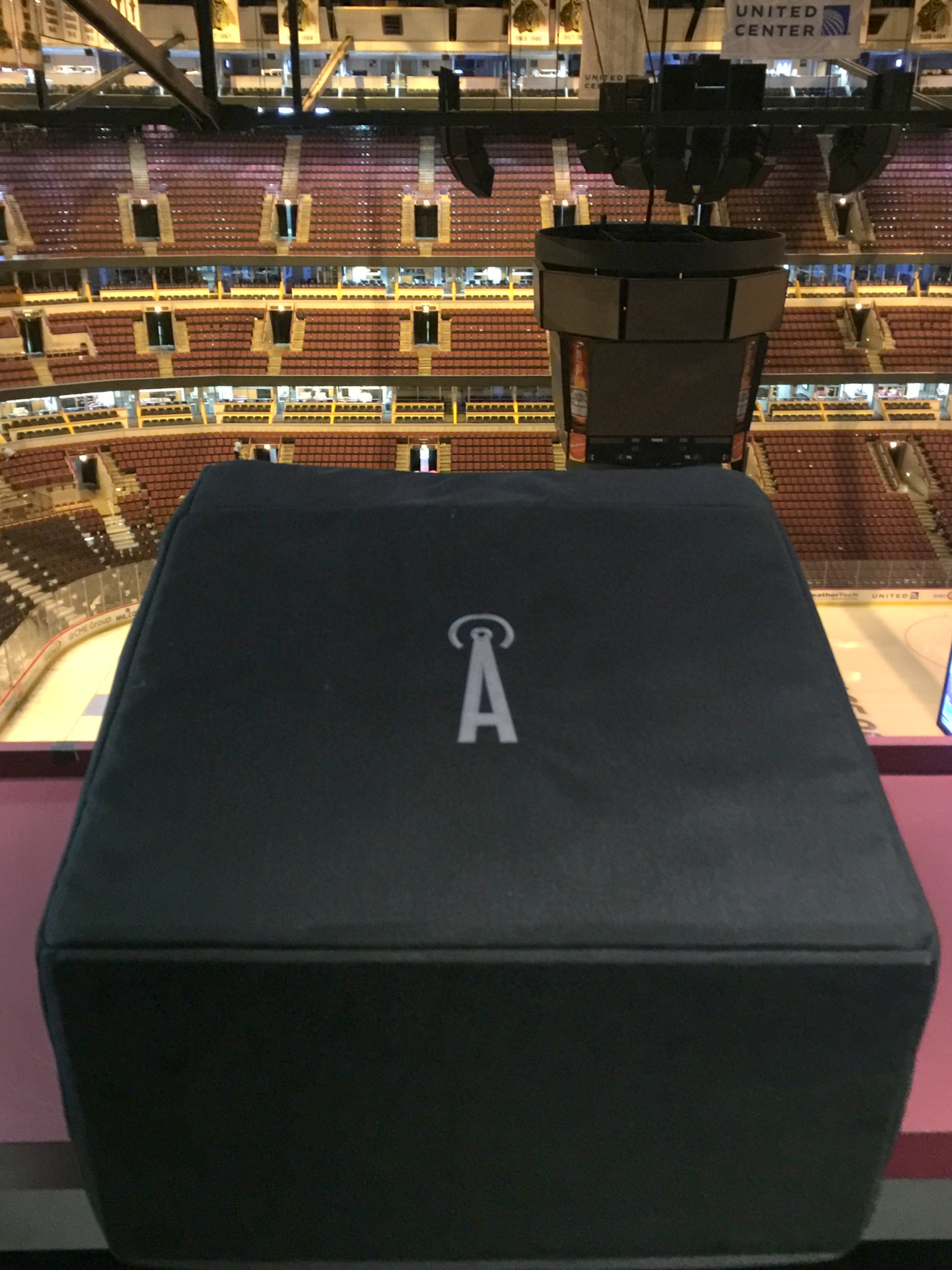 Next up, we see some of our FS/W weather protective speaker covers in action at Wallace Wade Stadium, home of the Duke University Blue Devils. The FS/W covers were ordered by Duke University technical services manager Selden Smith, and were used to keep the Blue Devil Marching Band's JBL PRX 715S cabinets dry in the worst of fall football weather.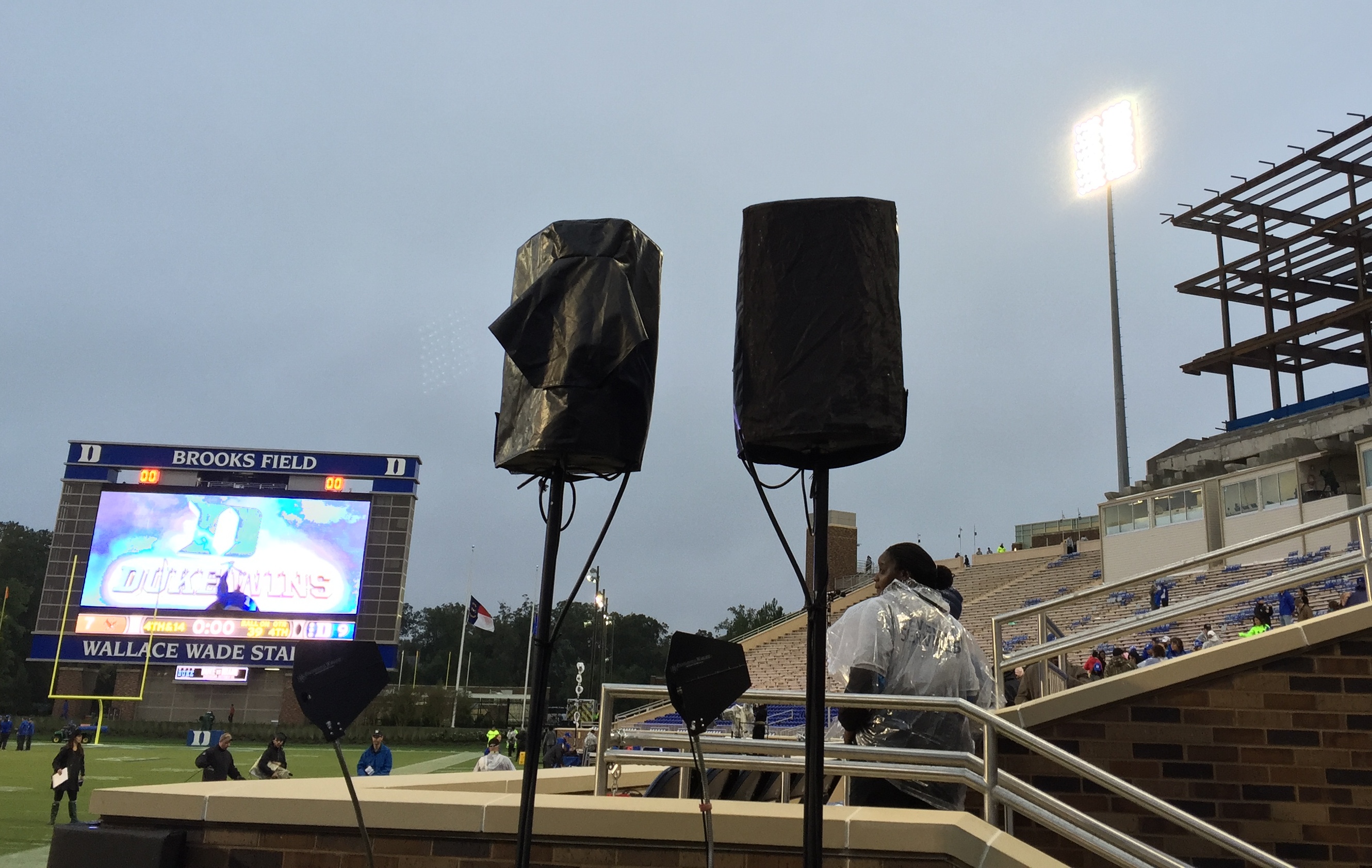 Get your gear personalized!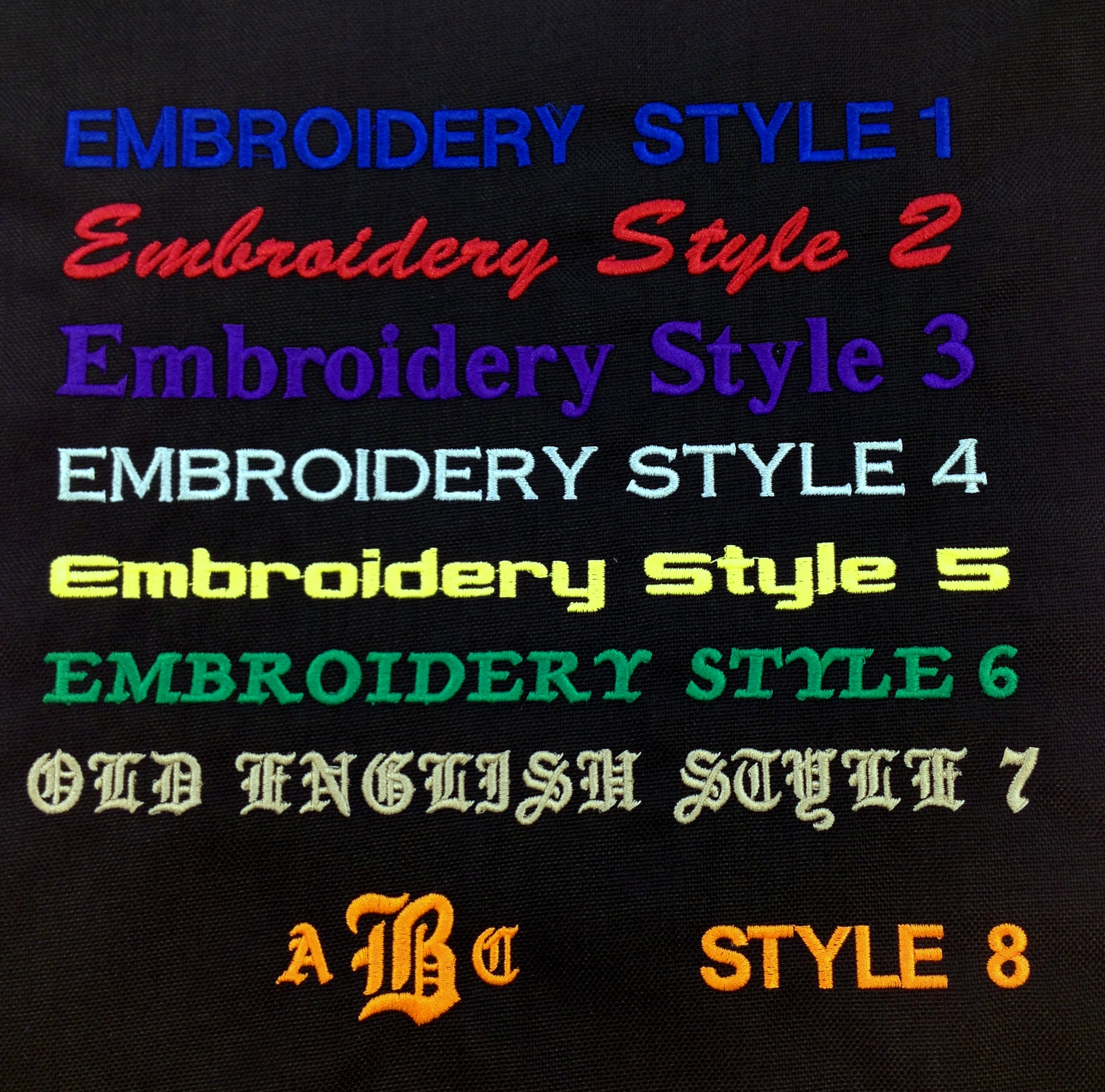 We now offer embroidery! It's done here in our manufacturing facility so it won't add to your ship time. You can have your company logo embroidered on your covers and bags or choose one of the styles in the photo. It's affordable and you can choose from twelve standard colors and eight different fonts. Put your name, phone number, web-site, band name or whatever you choose and personalize your gear. Call us today at 508-997-7600 to get a quote.
FS/W Weather Resistant/Sound Transparent Covers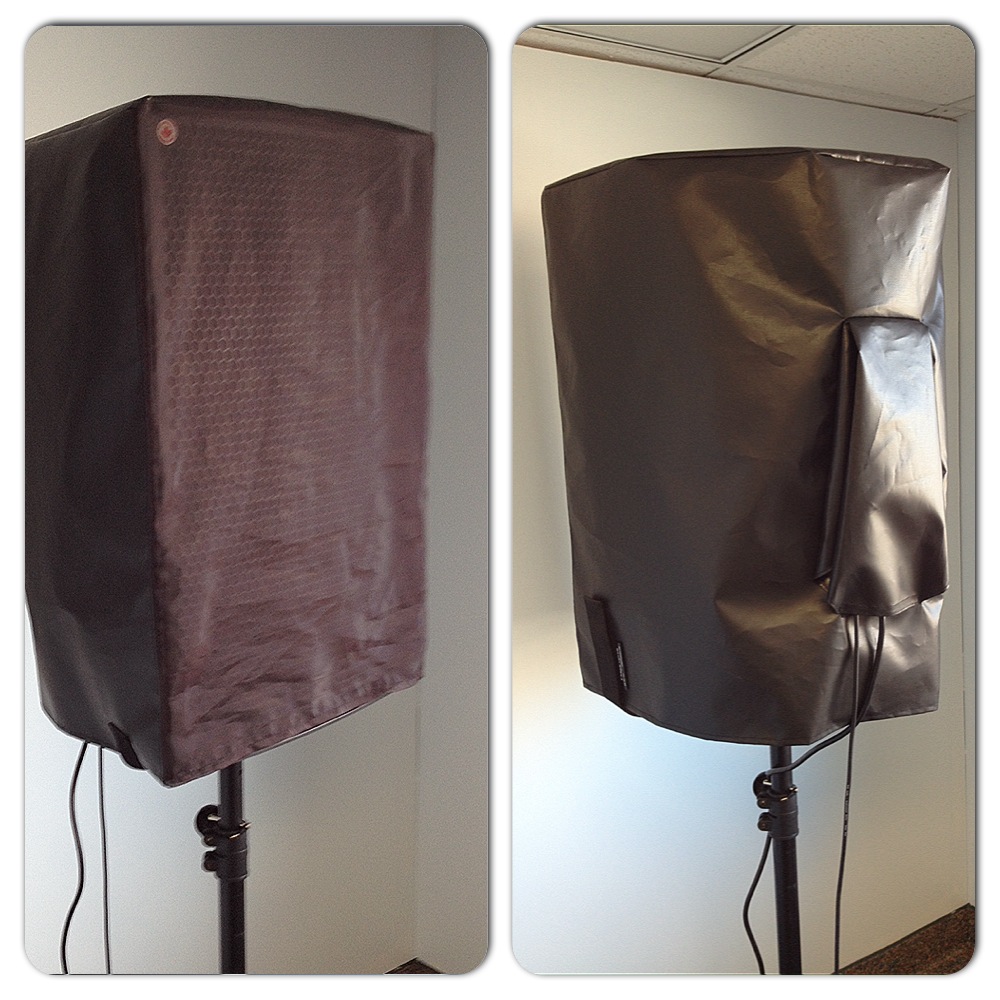 These covers are nothing short of remarkable: Extremely water resistant, and sound transparent! With FS/W covers from Under Cover on your speakers, your days of weather-related worry are over. Let Mother Nature give you everything she's got, because your speakers will remain safe, dry, and protected, while still delivering the pristine sound your clients have come to expect. These covers have been field tested for durability, water resistancy, and sound transparency, and, perhaps best of all, they are comparably priced with our other speaker covers. Let it rain!
Yorkville Parasource PS12P and PS15P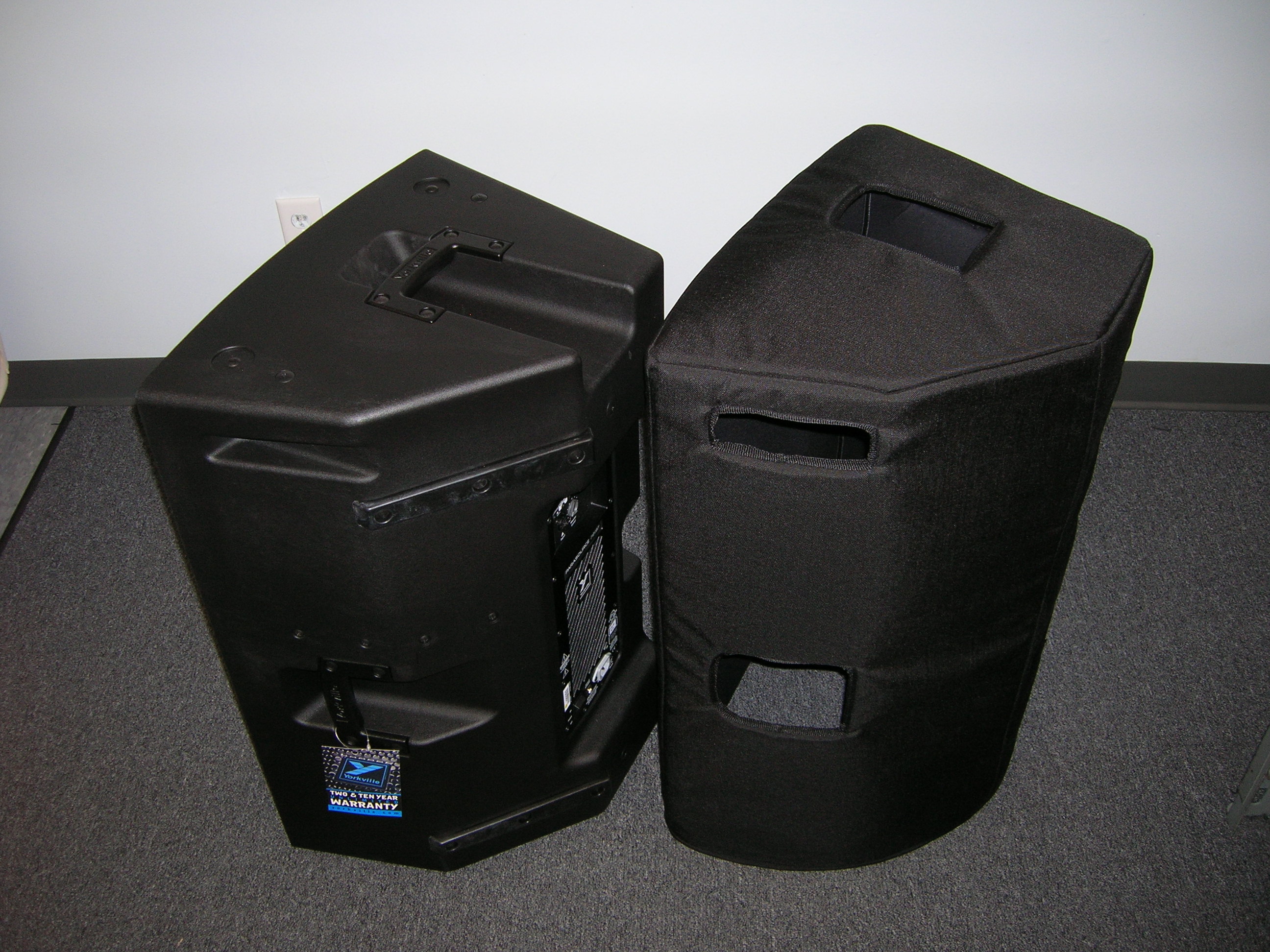 We now make covers for the new Yorkville Parasource PS12P and PS15P speakers.
They are available in F1, F2, F3, FS/W and Spandex! Call 508-997-7600 today to protect your investment and get your gear Under Cover!
FS/W covers at the Eagles/Saints Wild Card game!
Here are some photos of our FS/W weather resistant/sound transparent covers in use at pre-game warm ups before the Philadelphia Eagles/New Orleans Saints NFC Wild-Card Game. The covers are protecting two JBL VRX932LAP's on top of a JBL VRX918SP sub. The Eagles players listen to music during pre-game warm ups and then the speaker carts are moved off the field before the start of the game. Our FS/W covers allow the customer to use their speakers in adverse outdoor weather conditions without sacrificing sound quality.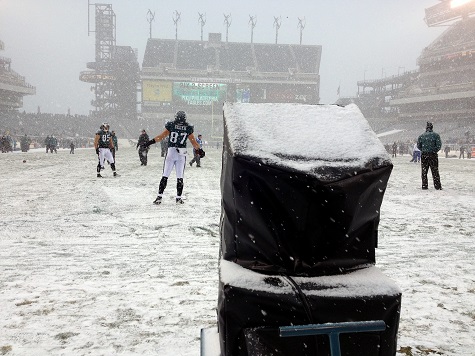 Check out our cool new promotional video!
Under Cover Super Bowl Commercial Round 2!
Many thanks to everyone who voted for us in Round 1 of Intuit's Small Business Big Game contest. Your votes have enabled us to advance to the second round!
You may recall that the winner of the Small Business Big Game competition wins a TV commercial for their company that will be broadcast during this season's Super Bowl. Big stakes, indeed!
Voting is a critical component of Round 2, as it was in Round 1, and we are humbly asking for your help and support once again. Remember, you can vote once a day for as many days as you like. You can see our contest profile, including a cool new Under Cover promo video by filmmaker Don Burton here: https://www.smallbusinessbiggame.com/MA/UNDER-COVER/373826/
Thank you friends!
Super Bowl Ad!
Hello friends!
Round one of Intuit's Small Business Big Game contest ends on September 23. We could use your help in piling up some last minute votes for Under Cover. As a reminder, the winning company will receive placement of a television ad during the 2014 Super Bowl.
To vote for us, please log onto https://www.smallbusinessbiggame.com/ma/UNDER-COVER/373826 and click the "VOTE FOR US" button. You can vote once a day, for as many days as you'd like.
Thank you, we appreciate your help!
The False Under Cover
It has recently come to our attention that another company who makes covers for speakers and other entertainment industry items has come into being. That's all well and good: We enjoy and encourage healthy competition in our little niche industry, which ultimately results in a better product for our customers and clients. Under Cover has worked dilligently for sixteen years to become the undisputed leader in the design and manufacture of high end custom covers and soft cases. It's probably fair to say that our name is well known in our industry.
It's understandable, then, that we were somewhat shocked and surprised to see that our new competitor decided to call his company... UnderCover. The similarity of their domain name (undercovernyc.net) might lead one to question if this breach of common business ethics could be anything other than intentional. And trying to capitalize on another company's good reputation and established customer base would certainly be considered unethical.
We are, of course, pursuing this legally, but the wheels of the legal machine roll slowly, and we wanted to give a friendly heads up to our long-standing customers, whose business we greatly appreciate.
We'll keep you posted as this unfortunate situation progresses.
Under Cover Super Bowl Ad?
Hello friends! Under Cover has entered Intuit's Small Business Big Game contest. The winning company will receive placement of a television ad during the 2014 Super Bowl.
BUT WE NEED YOUR HELP! Please log onto https://www.smallbusinessbiggame.com/ma/UNDER-COVER/373826 and click the "VOTE FOR US" button. You can vote once a day, for as many days as you'd like.
Thanks, we appreciate your help!
Thunder Valley Ampitheatre
XXXX Audio Systems in Sacramento, California recently installed our FS/W weatherproof/sound transparent covers at the Thunder Valley Ampitheatre in Lincoln, California! The ampitheatre is flying 9 JBL VT4889's side by side with 9 JBL VT4880 subs.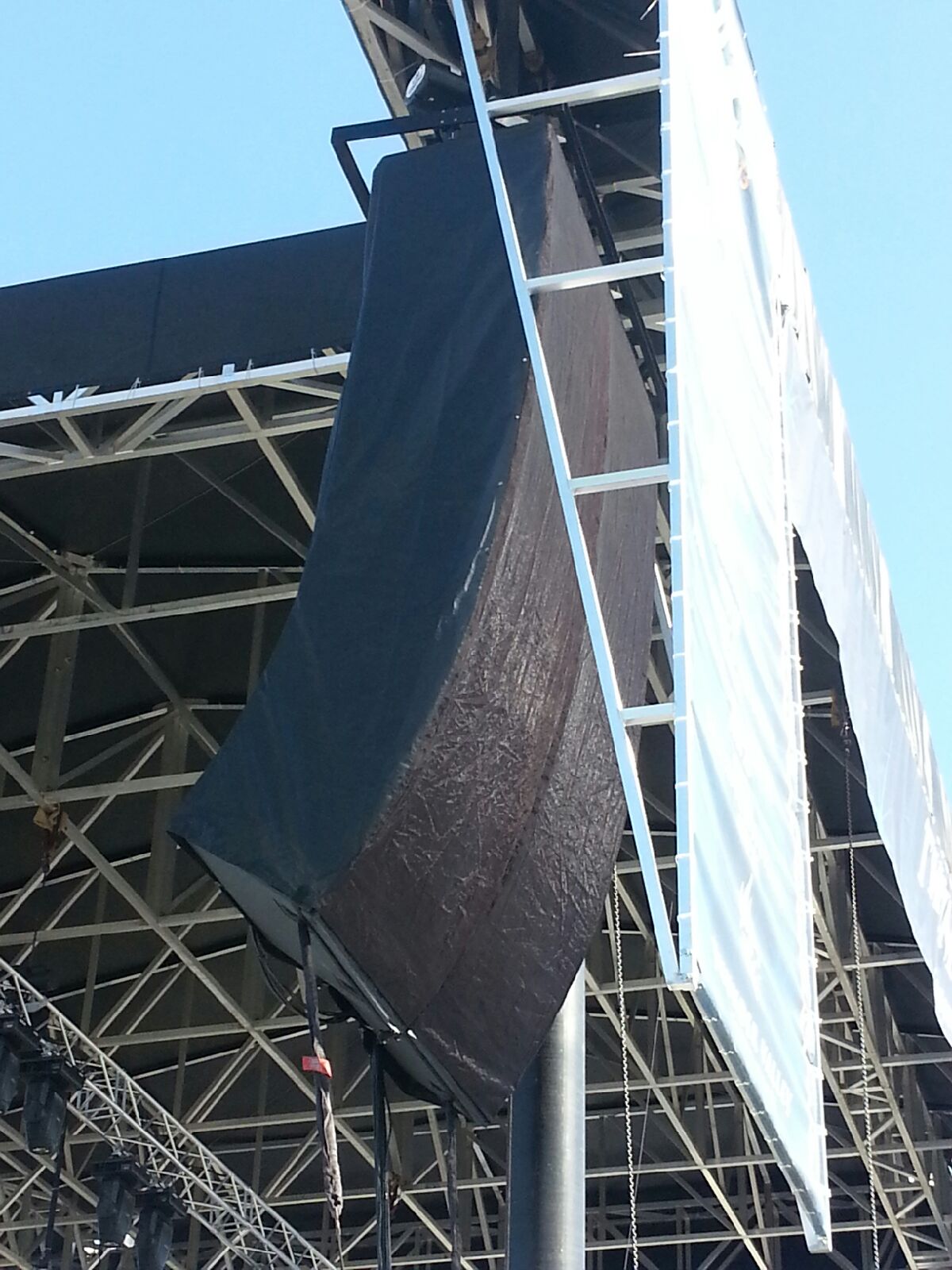 Under Cover on the Emerald Isle
Noted Irish guitarist Kieran Healy, who plies his musical wares throughout County Kerry on the Emerald Isle, recently ordered custom soft cases for some EV AXa5's.
Upon receiving the covers, Kieran sent us the following mail:
"I received those Ev Zxa5 Covers this morning!!!" What can I say??? Great product, Amazing service!!! I'll highly recommend you guys to everyone I know with gear!!! Thanks again for everything!"
Unfortunately, our plan to hand deliver the cases didn't work out, so we had to raise a pint to Kieran from right here at home.
We've Moved!
On Friday, February 27, Under Cover moved into its brand spanking new facility. On March 1, we had our grand re-opening party. You can read an article about our move in the New Bedford Standard Times.
Now that we're firmly ensconced in or new digs, we'd like to extend our unending gratitude to all the friends and associates who attended the party, and, more importantly, made the move possible!
UNDER COVER TELEPHONE AND E-MAIL INTERRUPTION
Friday, February 24 marks the day that Under Cover moves into our brand new facility, which may result in some communication down time. Our new facility is a full seven times larger than our current space, and we look forward to being able to better service all of our customers from our new digs. We expect to be up and fully operational on Monday, February 27.
Thank you for your patience!
Sea of SB28's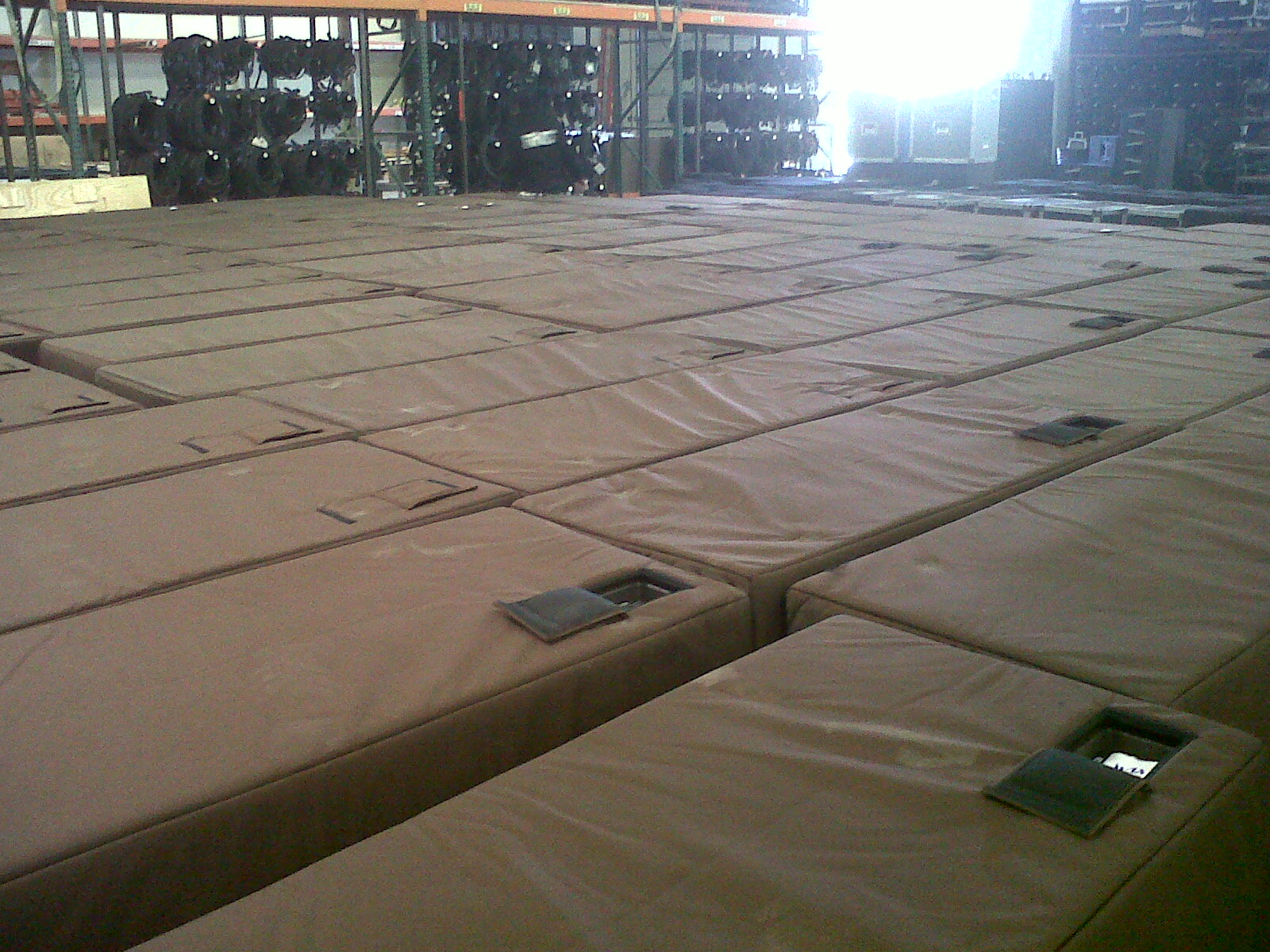 L'Acoustics SB28's as far as the eye can see, courtesy of our friends and customers at Rat Sound in Oxnard, CA. Note that all these SB28's are protected by Under Cover!
Congrats Alabama Crimson Tide!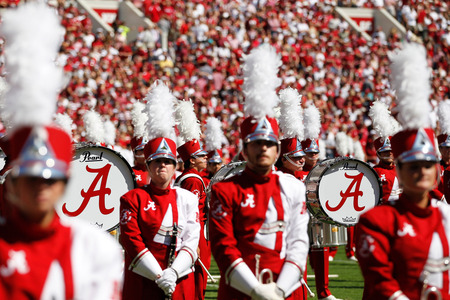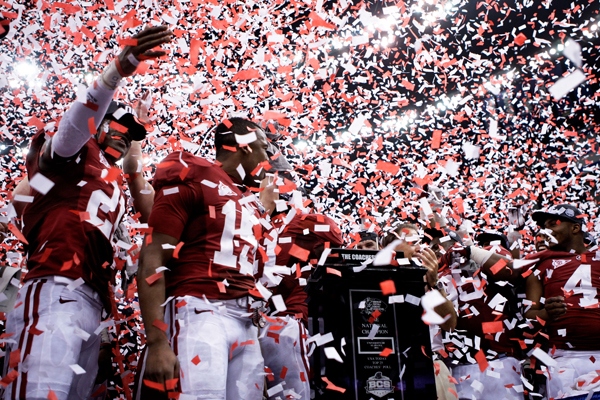 Congratulations to Under Cover friend and customer the Alabama Crimson Tide on winning the BCS National Championship with a hard-fought win over LSU.
Lending credence to the notion of a good defense being the best offense, 'Bama beat the Tigers by a decisive score of 21 – 0 in LSU's home town of New Orleans. The 400- strong Crimson Tide marching band, known as The Million Dollar Band, recently contracted Under Cover to obtain some protection for some of their JBL VRX932 and VRX918 speakers. Needing protection from inclement weather without sacrificing sound quality, the Million Dollar Band decided on Under Cover's weather-proof sound transparent FS/W range of covers. The covers were white, emblazoned with a large "A." In Crimson, of course!
New Year, New Digs!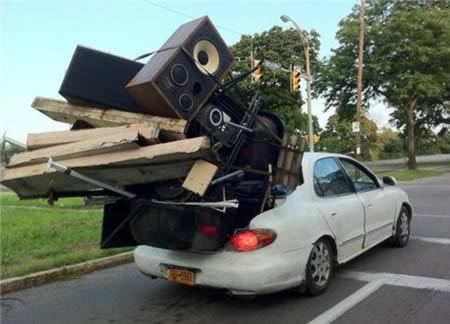 In an effort to better service our customers, we'll be moving our offices and manufacturing facility in mid-January.
Our new facility is seven times larger than our current building, and is currently undergoing significant renovations in a build-out designed for our rather specific needs. The actual transfer to the new site is targeted for mid-January.
Our new digs will be located in historic New Bedford, MA. In the 1800's, New Bedford was the whaling capitol of the world. With the advent of electricity and petroleum, New Bedford's whaling industry gave way to fishing, textile weaving and soft goods manufacturing, making the city a perfect fit for Under Cover.
We know that our new facility will enable us to serve our customers more efficiently, and we look forward to doing exactly that in the New Year and beyond!
Thank You Rose!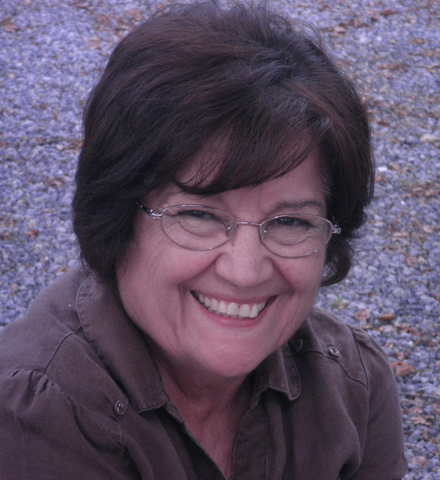 It is with mixed emotions that we send our friend and co-worker Rose Fernandes, one of the longest standing members of our team, off to her well-deserved retirement. We couldn't be happier for Rose, who has earned her retirement many times over with her years of hard work, dedication, and unfailing loyalty. Then again, losing a co-worker with these many outstanding qualities obviously saddens us. We take comfort, though, in knowing that Rose will continue to be a great friend to all of us here at Under Cover.
Rose may be retired, but she will always be a member of the Under Cover team, and she will always have our love and gratitude. So, to Rose, we say, thank you, thank you, thank you, and congratulations!
Under Cover and Light This Productions Beat The Weather!
The last weekend of August saw hurricane Irene battering the East Coast. The Under Cover world headquarters sustained some very minor damage, but we were without power well into the following week. With generators growling away, however, we were able to limp through until our local utility company was able to restore power. We'd like to thank our patient customers for rolling with us during this hectic time.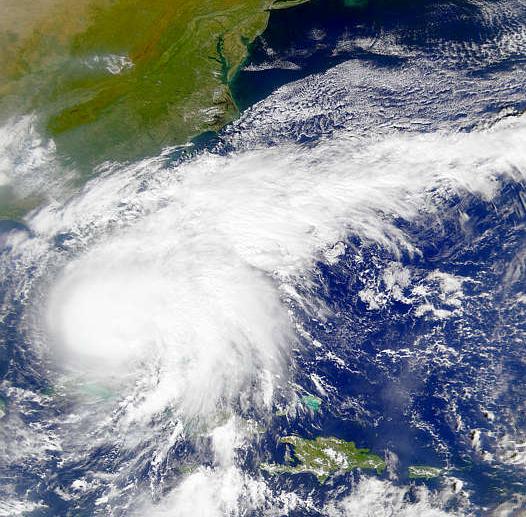 One customer who took delivery of covers during the recovery week was Chris Timmons of Light This Productions. Light This, in Urbandale, Iowa, was well clear of Irene's path, but Chris apparently had a premonition that his Labor Day weekend event would be rained on. Upon receiving news that his weather protective FS/W covers had shipped, he e-mailed us saying, "I hope it rains all weekend now, 'cause I will be covered!" Chris flew his Nexo Geo S-12 line array, and sure enough, his prediction proved accurate. Afterward, Chris e-mailed us again to let us know that "it rained.... and rained... and rained... everything was wet .... except for the speakers."
Under Cover and SAVI at Tanglewood!
Under Cover recently completed an exciting project for Specialized Audio Visual Inc, of Clifton Park, NY.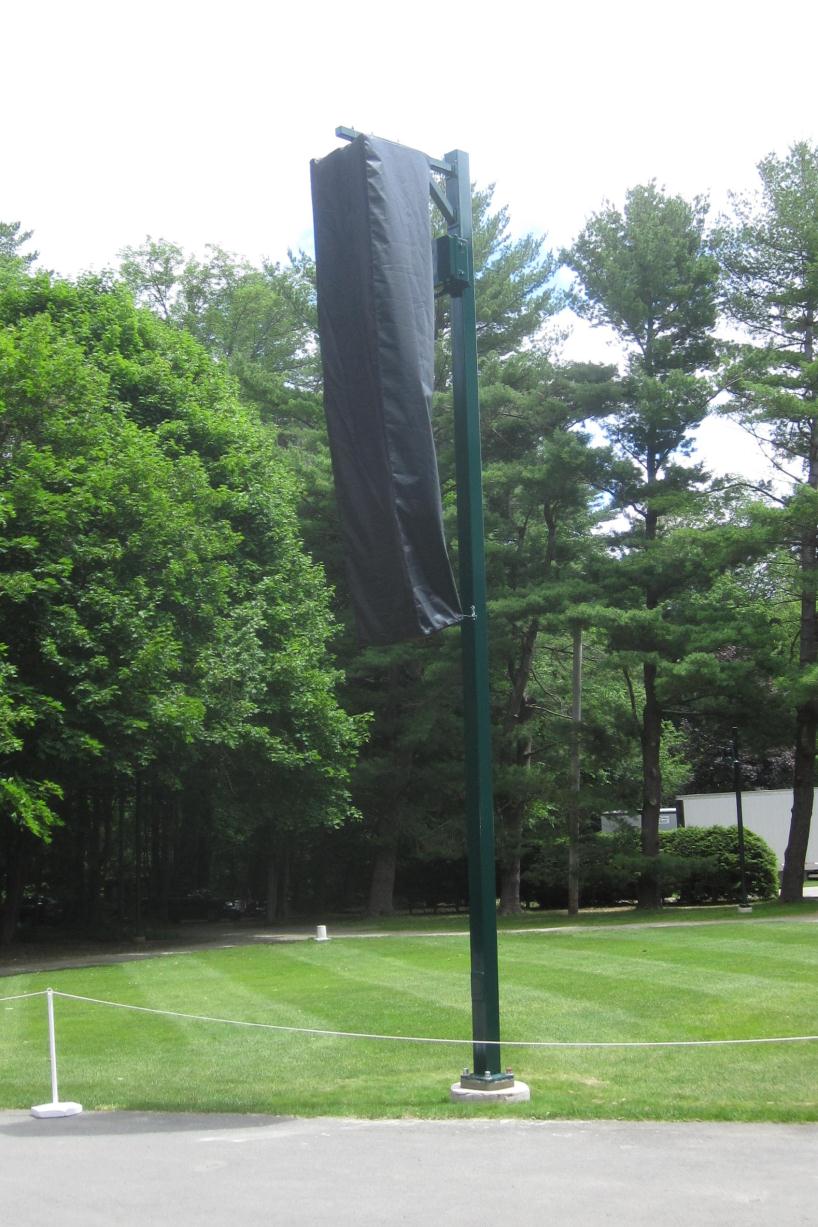 SAVI was contracted by the Tanglewood Music Center, summer home of the legendary Boston Symphony Orchestra, to provide a 12-deep cluster of d&b audiotechnik Q1 loudspeakers at the equally legendary venue. SAVI General manager Michael J. Weirich was concerned about the cabinets being outside for the duration of the BSO's summer season, and so promptly called Under Cover for the solution, having heard about our sound transparent, weather-proof FS/W range of covers.
"These worked out very well and were not a nightmare to install either," said Weirich. "All in all a nice success."
Summer 2011
We're just back from Orlando, and InfoComm 2011. With over 900 exhibitors and 33,000 attendees, the show was a resounding success. As always, it was great to make new aquaintances, see old friends, and meet some long distance customers face to face. The feeling on the show floor was generally positive, with exhibitors and attendees alike optimistic and encouraged (if somewhat cautious) by the economy, which was great to hear. Check out this brief video clip from Rave Publications to see Peter at the show, talking about our FS/W covers.
Meanwhile, back at the Batcave, those FS/W covers have been flying out the door with the advent of the warm weather. From small, self-powered molded cabinets to full size line arrays, the professional audio industry knows that Under Cover is the place to call for all-weather speaker protection.
Our stock accessory pouches are also proving to be a big hit for the summer. You can see them on our sale page, which has just been updated with new, lower prices on many of our overstock items.
Finally, we'd like to wish everyone a happy, healthy, and relaxing Independence Day holiday. And don't forget to keep those illegal fireworks Under Cover!
Wicked Busy
We've been "wicked" busy here at Under Cover, since relocating our headquarters to Massachusetts. We're happy to see a continued upswing in both our business and the industry at large. And we're excited to share the latest Under Cover news here on the site!
Here's what Kari Eythorsson of Exton Ltd had to say about his Under Cover bags:
"There 3U rack bags are just amazing! We never use them for their original purpose, but for everything else! Including filling them with scaffold clamps to the level that you need two people to carry the sucker! Used them inverted to protect cable looms from steel support wires while flying them--you name it! Not a single failure yet!"
See why our durable bags and covers are becoming increasingly popular with industry professionals; visit us at InfoComm, booth #352, Wednesday, June 15th through Friday, June 17th at The Orange County Convention Center in Orlando, Florida.
And be sure to check out our new padded accessories pouch, available in two convenient sizes, and perfect for protecting and transporting cables, mic's, headphones--and more! Visit our sale page for details.
NEW WEBSITE AND INFOCOMM 2010!
Welcome to the brand spanking new Under Cover web site! We think you'll find it more informative and easier to use, and we hope you like what you see. We welcome your comments.
In other news, we're just back from Las Vegas, and InfoComm 2010. As always, it was great to see old friends, as well as make some new ones! The general feeling of optimism at this year's InfoComm was a welcome change from trade shows of the past few years, and is, hopefully, a sign that the economy and our industry are back on the upswing.
Along with the new website, we have finally (!) updated our overstock page. Be sure to take a look, you'll undoubtedly find some great deals.
Here's hoping we all have a busy and prosperous summer!